ICU AND LinuxONE: HOW, WHAT AND WHY?

>> Nearly all of the major companies in the Netherlands have endorsed Linux. It is one of the strategic platforms that runs business-critical applications. Ron has already touched upon this in his blog. With many of our clients considering Linux, it has become a significant platform for ICU as well, and one which we adopted by making considerable investments in training, certifications, and the technical activities we launched within ICU. IBM too is focusing fully on Linux: on the x86 (having recently sold its x-series hardware business), and on the z-platform in particular, providing IBM and their new LinuxONE solutions with a unique offering, the Enterprise Linux Servers. 
ICU as a LinuxONE business partner
For many years ICU has been a specialist in large Enterprise IT systems (z/OS), and we are aiming to achieve the same within the Linux-environment. Of course we have our own quirky approach to this, which is exactly why IBM asked us to become their business partner for LinuxONE solutions. A fantastic opportunity of course, and we feel honoured, but the questions we immediately asked ourselves were: what is in it for ICU and is it right for us? Food for thought.
ICU is a services and solutions company, and hardware is not really our cup of tea. Our vision with regard to infrastructure is to centrally manage and provide business-critical data. All our services and solutions are based on this vision, which is why we believe in the z-platform. That said, LinuxONE will allow us to expand that vision within the Linux-world, creating a unique position in the market. Although technology, platform and frame are partially new, at the same time we're on familiar grounds. Above all, it offers a unique opportunity to introduce the z/OS and Enterprise worlds to the many possibilities Linux has to offer.
So yes indeed, ICU has become IBM's European business partner for LinuxOne solutions. Quite cool, don't you think?!
Click here if you would like to receive more information about LinuxONE or continue reading and find out what to expect from ICU on LinuxONE, x86, and z/OS in the course of 2016.
LinuxONE: the Enterprise Linux Server
What exactly is a LinuxONE machine? The answer is quite simple: a large enterprise-class Linux server. The platform has the same characteristics as IBM's z-Series mainframes: virtualised by nature, highly redundant (zero-downtime), incredibly efficient with an extremely high level of security. It is an enterprise server that allows the consolidation of hundreds of (virtual) Linux environments. It uses its (IFL) processors as intended: to compute. All I/O is delivered by special I/O processors that are incorporated in the architecture. This is what turns the LinuxONE machine into a real I/O-beast: perfect for processing large I/O-intensive (database) workloads.
Regrettably it has a downside. Due to the difference in architecture (for the real nerds: the servers are LinuxONE big-endian rather than little-endian), not all tools and applications can simply be transferred to a LinuxONE environment. In some cases a re-compilation of the application or tool will be required. Together with many software and tool suppliers IBM is working on making their products available on LinuxONE machines. For this purpose important open source databases like MariaDB, PostgreSQL and MongoDB (next to DB2 and Oracle) and tools like Puppet, Jenkins, Docker and Open Stack are already supported.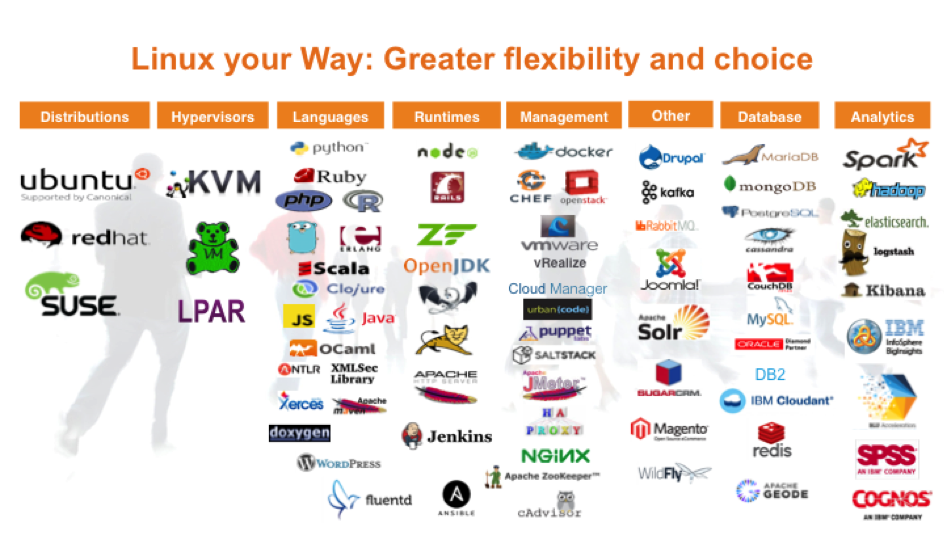 A Rockhopper or an Emperor?
IBM offers two types of LinuxOne solutions, both named after charming penguins: the Rockhopper and the Emperor. The Rockhopper is the 'Entry'-model on which you can consolidate hundreds of Linux servers with up to 20 (IFL) processors and 4 TB of internal memory. The Emperor simply is the top of the range. This 'penguin' could develop into a super computer with 140 (IFL) processors and 10 TB of internal memory. You can read more on: http://www-03.ibm.com/systems/linuxone/
Why a LinuxOne Rockhopper at ICU?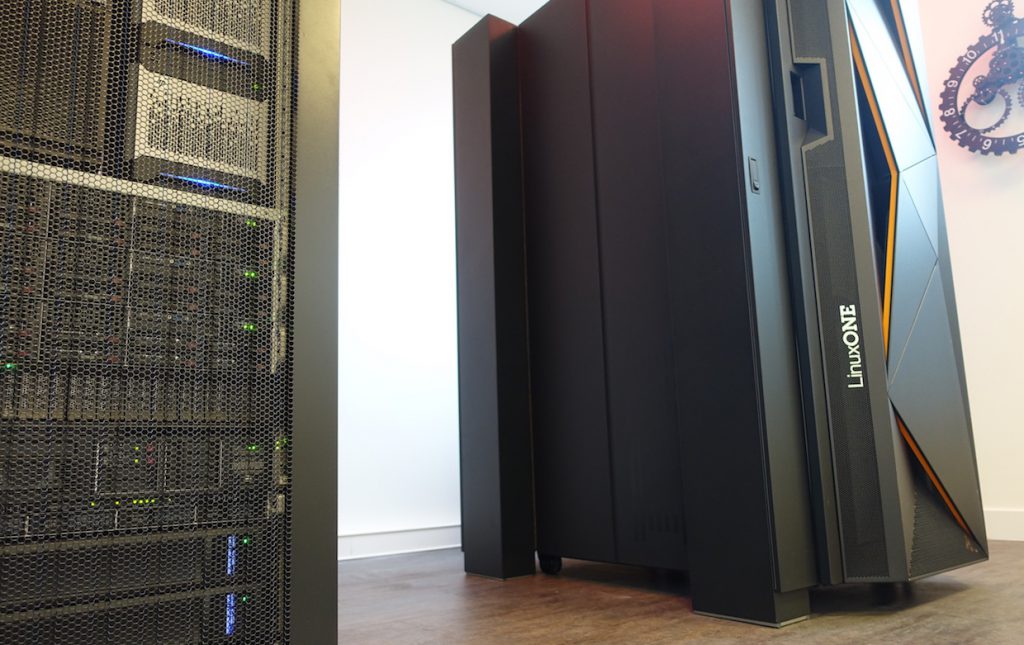 Since the beginning of 2016 and besides our own (virtualised) z/OS and x86 environment, ICU also has its own LinuxOne Rockhopper. Being a specialist, we think you must believe in what you offer and therefore should be able to show it. As such the Rockhopper has become our showcase to demonstrate our Linux specialisation. It allows us to help our clients perform the Proof of Concepts and Proof of Technologies of our solutions, regardless of the selected platform.

In addition we will also use the platform for training purposes to continue developing the speciality of ICU employees. In the meantime with a group ICU employees we started to implement our vision, building solutions that are 'managed', 'secure' and 'DevOps Ready', with focus on data. Everything is built up in a virtualised infrastructure using cloud solutions with Docker and Open Stack, and all with high-quality security and a far-reaching standardisation and automation of activities.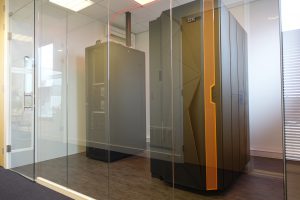 Of course we have a lot of other ambitions as well. For example, wouldn't it be cool if soon a client could choose a number of solutions from a sort of menu on the ICU-website that, when pressing the deployment button, will be set up in a private tailor-made environment and allow you to start immediately? It would, wouldn't it? That's what we aim for! 
Author: Johan Schelling
March 21, 2016 – Almere, The Netherlands