CONFERENCE VIDEO & CONTEST WINNERS
>> ICU IT Services attended SUSECon from November 3-5, 2015 at the Beurs van Berlage in Amsterdam. Watch our full video below for a quick impression.
Winners SUSECon STAR WARS VIP Tickets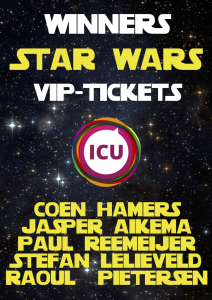 Visitors of the conference that visited ICU, could win VIP tickets to the new Star Wars movie: The Force Awakens!
ICU allots a number of VIP tickets among participants that have registered for the contest. Here are the lucky winners:
Jasper Aikema (fan of Anakin Skywalker & Darth Vader)
Raoul Pietersen (Yoda fan)
Stefan Lelieveld (Princess Leia)
Coen Hamers (Darth Vader fan)
Paul Reemeijer (fan of Boba Fett)
The prize winners will be informed about the exact day and time soon. We would be honored if you would join us!
We thank all other participant for their interest in ICU and the Star Wars contest. We appreciate your enthusiastic responses to our invitation and hope we can keep in touch!