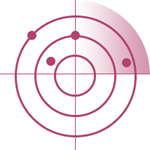 Security
The security of infrastructures and all the data they capture, as well as meeting all kinds of (international) requirements, becomes more important every day. The importance of a good security policy is essential, alongside its compliance and monitoring. To work in a secure environment, infrastructures are subject to a number of core values: reliability, availability, scalability and security. The IT organisation will need to pay detailed attention to these aspects. 
Various topics need to be addressed to develop a comprehensive security policy, such as continuity, systems maintenance, procedures and regulations, access security, organisation and staff.
ICU's specialists will set up and manage the infrastructure guaranteeing information security. ICU ensures that your infrastructure is secure and meets stipulated requirements.
Our Security & Compliance Services will focus on:
– Security baseline
– Availability
– Authorisation(s)
– Compliancy
– Capacity Management
– Installation (of system) software
– Backup and Recovery
– Recovery strategy
– Reporting
Want to know more? Please contact one of our account managers.