MUSIC IN THE AIR!
>> Earlier in 2015 we introduced the ICU Fridge: an IBM server cabinet turned into a fridge (click here to view the article). Recently we took our fridge to the next level. We proudly present the ICU Rocking Fridge!
Make-over: from ugly-duckling to cool rock-box!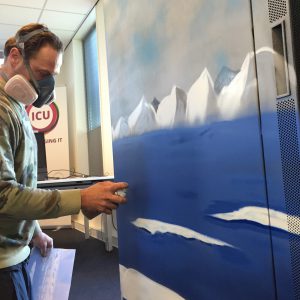 Many things look cool in black , but we grew a bit tired of the normal IBM server cabinet that looks a bit dull. It really could use some more colour. And we wanted to make clear that when the mainframe / z Systems and Linux come together, they create a wow effect! So we had someone painting a killer whale and a penguin on our server cabinet!
Yes, we admit. It felt a bit exciting to invite graffiti artist Miquel Meijnderhagen of Millennium-ART into our offices. Miquel is a man who has made it his life's work to light up the world with his graffiti. Even for him the steps from painting graffiti on bridges and trains, to decorating walls, to decorating an IBM server cabinet were quite challenging. But he had so much fun that we were afraid he would start decorating other ICU office furniture as well. 🙂 But all turned out well – with some beer and a few snacks we could keep his artistic jitters under control.
"Wow – now that's cool!"
Whether it was the paint fumes, the alcohol or something else we are not really sure, but we immediately decided to change the fridge even more and turned it into a rock box. And we have never seen a cooler fridge/jukebox! It became a real "Rockhopper" (pun intended).
Want to checkout the ICU Rocking Fridge? Click on the video below!